Corrosion of Cast Iron in Marine Environments
FMGC offers better alternatives to the existing solutions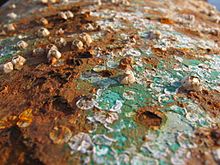 Like all metals, cast iron is subject to corrosion that varies from one site to another. According to the first estimation, mentioned in the study of IN VIVO ENVIRONMENT , corrosion can reach a rate of up to 0.25 mm / year.
The solutions adopted today by the offshore sector include:
Paints, as epoxy and antioxidant primers. Their disadvantage is that they can be subject to eventual damages during handling.
Sacrificial anodes, which are effective but expensive (€ 6.000 / tonnes).
FMGC offers better alternatives to the existing solutions:
Oversizing, which will guarantee a competitive price for ballasting until the end of the exploitation period.
The elastomer coating which is environmentally friendly, provides excellent impact resistance and withstands possible damages during handling.
Would You Like to Know More?
Sign up for our free newsletters here and get the best of what Farinia Group has to offer, delivered right to your inbox!