FMGC Clump Weights for Floatgen
Monday, December 12, 2016
First French Floating Wind Turbine in Atlantic Waters​
➤ Discover more about FMGC and the Marine Renewable Energy sector​​​​​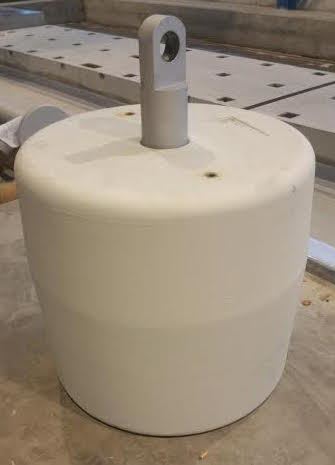 Floatgen is the first floating wind turbine system for power generation in French Atlantic waters. The project is a demonstrator, using a European innovative floating system of high quality, that will show the technical and economic feasibility of floating wind turbines and enable their development. The consortium behind Floatgen consists of Ideol, Ecole Centrale de Nantes, Bouygues Travaux Publics, University of Stuttgart, RSK Group, Zabale and Fraunhofer IWES.
Showing the enormous potential of this emerging market, Floatgen is of critical importance for the entire region, offering France and Europe the opportunity to become key players in this field. Offshore floating wind turbines are installed in deep waters to preserve the coastline and produce electricity at a reduced cost thanks to a renewable source
FMGC won the contract for clump weights for the Floatgen project via Le Béon Manufacturing. Monitoring since long time the offshore wind industry, FMGC engineers develop every product being aware of the obstacles and challenges that the sector faces.
Would You Like to Know More?
Sign up for our free newsletters here and get the best of what Farinia Group has to offer, delivered right to your inbox!