FMGC Introduces Mobility Work to Professionals
Next-Gen CMMS for Improved Maintenance Performance
FMGC regularly participates at meetings between regional professionals to present and exchange best practices. The last meeting was held on October, 13 when Mobility Work – the maintenance management platform deployed at the foundry, was introduced to the company's guests.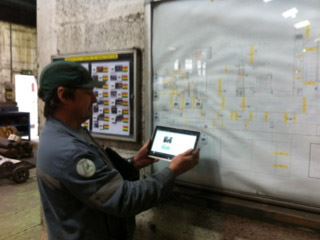 Mobility Work is the first next-gen CMMS, combining the features of an industry 4.0 driven solution with a massive social media platform, connecting manufacturers, technicians, suppliers and freelancers. The product has significantly improved the maintenance routines at FMGC. The company's maintenance manager presented to the participants the functionalities of the CMMS and explained the implementation process.
Finally, a visit to the FMGC foundry was offered to the industrials to discover and get closer to the exciting environment of the casting manufacturing.
FMGC team would like to thank Grégoire Besson, Bouhyer, Waterman, Cetih, Manitou, Aplix, Sercel, Vibracoustic, Insead, Saulnier Duval for their visit and the meeting organizer our organizer Marion Andro from Alphacoms / Nantes Industrie.
Would You Like to Know More?
Sign up for our free newsletters here and get the best of what Farinia Group has to offer, delivered right to your inbox!