FMGC Protecting and Ballasting Shells for Enedis
Tuesday, October 10, 2017
320 Shells to Fix and Secure the Electricity Cable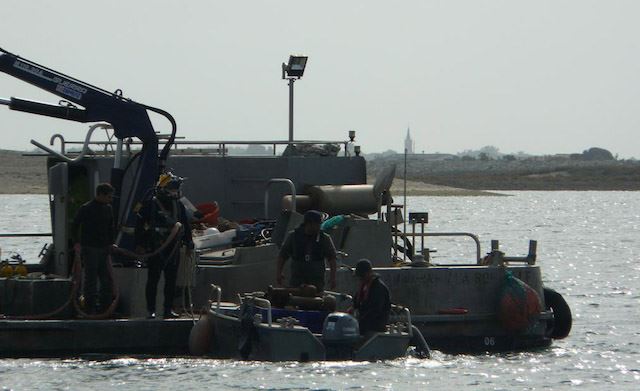 The Laying of the FMGC Protecting and Ballasting Shells
On September 28, the French company Enedis, managing 95% of the public electricity distribution network of continental France, installed 320 submarine protecting and ballasting shells over 80 meters of the underwater cable, crossing the Fier d'Ars between Loix and Les Portes en Ré.
The strong currents in this area have raised the cable towards the surface. A quality fixation was of crucial importance for the proper functioning of the cable, ensuring the continuous electricity supply to the inhabitants of Portes en Re and Loix.
Why Choosing FMGC Ballasting Shells for Submarine Cable Protection?
A team from FMGC attended the event to introduce the innovative product to local elected officials and Enedis technicians. Atlantique Scaphandre, specialized in underwater installations, carried out the laying of the protecting and ballasting shells on the already existing cable.
Would You Like to Know More?
Sign up for our free newsletters here and get the best of what Farinia Group has to offer, delivered right to your inbox!