FMGC Selected for the FORESEA Program at SEANERGY
New Prospects and Access to a Huge Network of Test Centers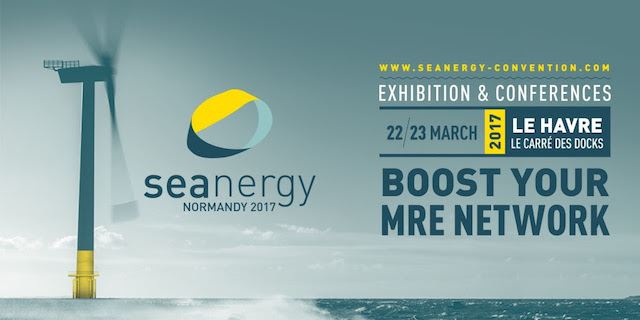 The SEANERGY is the French must attend event for Marine Renewable Energies professionals from all over the world. This year SEANERGY took place on March 22 -23 in Le Havre, Normandy, under the high patronage of Mr. François Hollande, President of the French Republic. National and international political and industrial MRE actors met and shared expertise for future synergies.
As one of the European leaders in the manufacture of innovative ballast solutions for the MRE sector, FMGC exhibited at SEANERGY to meet current and future customers. The excellent references of renowned key-players raise awareness and interest among professionals towards our products. FMGC gravity anchors and above all – the protecting and ballasting shells for submarine cables were at the heart of the discussion.
Many visitors have confirmed their trust in the FMGC ballast solutions and revealed their plans to implement our products in future projects as soon as certain financial closures get finalized.
Moreover, FMGC got an award in the FORESEA (Funding Ocean Renewable Energy through Strategic European Action) project. The Interreg North-West Europe program, part of the European Regional Development Fund, funds FORESEA. The winners will benefit from privileged access to a network of European sea testing sites to develop new marine energy technologies in real-sea conditions.
"Two years ago, as part of Innov PME, we developed a product to stabilize submarine cables with the support of the company Innosea and the GeM laboratory in Nantes. The aim was to design a coating to protect and to ballast the cables in order to replace the traditional slicing or rock-dumping techniques. These methods are quite slow and can be very expensive: a boat for a rock-dumping operation costs 100 000€ per day and nearly a week is necessary for a single cable.
To go from the design phase to the commercialization, we had to go through sea trials and that is what the Foresea project will allow us to do.
With this experiment, we will also be able to verify our estimations: they are still to be confirmed, but we look forwards to lower the protection and ballast costs by at least 30%. We've identified three markets. First, the tidal turbines: we collaborated with the French company Sabella, to limit the micro-vibrations' impact due to the waves and the swell. Our solution is also adapted to onshore and offshore floating wind turbines, in complicated environments such as French coasts (sea conditions, swell, composition of marine soils…) but also for the islands' connection and electricity supply. Our firsts clients are in France, but we are also discussing with actors from UK and Northern Europe, particularly regarding our solutions for tidal turbine"
Nicolas Saliot
Would You Like to Know More?
Sign up for our free newsletters here and get the best of what Farinia Group has to offer, delivered right to your inbox!