Maintenance Commission Meeting at Setforge - June 7th 2017
Farinia Group Chosen for the Relaunch of the FFF meetings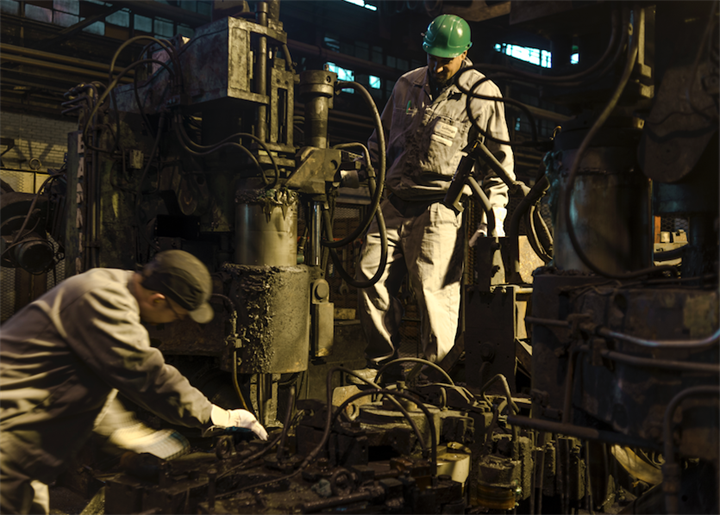 Setforge Hot Formers will host the first FFF Maintenance Commission event since 2014. Setforge Hot Formers belongs to the forging subsidiary of Farinia, Setforge and is specialized in the manufacture of hot forged components for the automotive industry.
The Maintenance Commission meetings are organized by the French professional organization of metal shaping industries (FFF - Fédération Forge Fonderie with 180 industrial member companies). Observing and experiencing all changes that smart manufacturing inspires and at the request of some of its members the federation decided to relaunch the event dedicated to latest innovations in the maintenance world.
Some of the main objectives of the Maintenance Commission are to establish a troubleshooting network, connecting French maintenance professionals and forgers, to extend the Commission to Germany, to organize trainings, to discuss on regulatory standards, recruitments, laws and many others.
The next meeting in Hagondange will cover the rapid emergence of digital transformation in today's manufacturing and the changes it brings to all traditional metal shaping professions. The following speakers were invited to present innovative solutions dedicated to smart maintenance and trigger the discussion:
➢ Robotics by Setforge and FFF members​
➢ Presentation of Mobility Work by Marc Antoine Talva
If you cannot go, join the LIVE session at 11 AM (in French)
From your computer, tablet or smartphone, just click on the link above. You can also dial in using your phone from France: +33 184 880 733 - Access Code: 862-915-157
Mobility Work is a next-gen CMMS and the 1st maintenance social network, which is about to revolutionize the maintenance world. Already adopted and successfully used by many forging and casting companies, Mobility Work enormously eases company's maintenance process, by providing great support in technicians and preventive maintenance schedules, spare parts management, data analytics, predictive algorithms and many more. The solution is cost efficient and doesn't require and special installation or training. Mobility Work is accessible anytime from any smart device.
➢ Presentation of the LETO clamp, additive manufacturing solution in maintenance application by Spartacus3D
Used to grasp extremely hot forged components, the clamp LETO was collaboratively re-engineered by CTIF and Spartacus3D and serves, today, to demonstrate, how legitimate metal AM can prove, even for non-medical/aerospace applications.
Provided that designers consider the entire cycle of life and costs of products, metal additive manufacturing out of high-end superalloys may become financially attractive while providing an unrivalled performance compared with other manufacturing methods.
Setforge and Farinia Group are more than happy to host this event. We are very much looking forward to meeting you all and share interesting views and best practices.
Would You Like to Know More?
Sign up for our free newsletters here and get the best of what Farinia Group has to offer, delivered right to your inbox!