FMGC Updated Its QSE Policy
Tuesday, October 16, 2018
The Core Values of the Foundry Are Essential for Management and Employees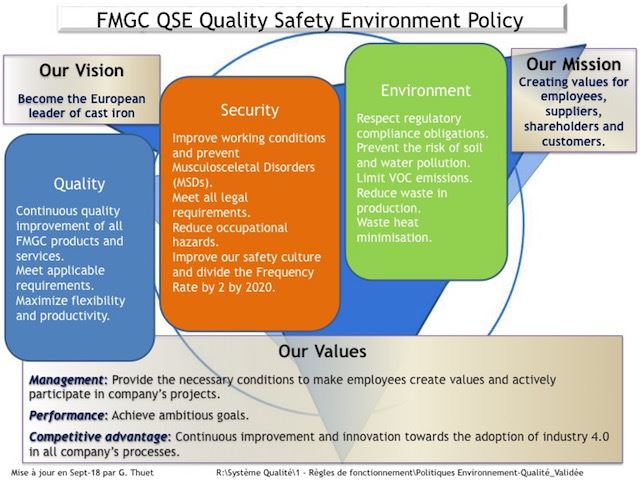 Two weeks ago, FMGC, the European leader in the manufacture of cast iron counterweights has added some new aspects to the its already elaborated enough QSE (Quality Safety Environment) Policy. The new policy is focusing even more on employees' safety and health through the prevention of Musculosceletal Disorders (MSDs) and the division of the frequency injury rate by 2 by 2020.
In an environmental context, FMGC is aiming at limiting the VOC emissions, reducing waste in production and minimising heat waste.
Furthermore, the foundry wants to emphasize on the development and deployment of many new industry-4.0 induced tools.
FMGC believes that innovation and progress are only achievable if the management provide all necessary conditions to make employees create values and actively participate in company's projects.
Would You Like to Know More?
Sign up for our free newsletters here and get the best of what Farinia Group has to offer, delivered right to your inbox!