Spartacus3D Exhibited at 3DPrint
The Creation of Next Academy In the Spotlight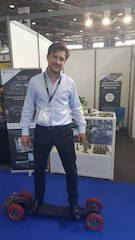 Charles de Forges at 3DPrint
Spartacus3D was present at the annual 3DPrint exhibition in Lyon on June 5th, 6th and 7th. During this show, the startup headed by Charles de Forges welcomed existing and new visitors at the company' booth to discuss ongoing and future collaborations.
One of the highlights of the company's participation was the conference, held by Charles de Forges on the creation of Next Academy. This is the latest Spartacus3D project – a training center for professionals to better understand the advantages and the possibilities of metal additive manufacturing.
The team of Spartacus3D has demonstrated one more time its dynamism, sound knowledge and desire to develop further the metal additive manufacturing ecosystem.
Would You Like to Know More?
Sign up for our free newsletters here and get the best of what Farinia Group has to offer, delivered right to your inbox!