First Robotized Island at PJT
Since Its Acquisition by Farinia, PJT Doesn't Stop Developing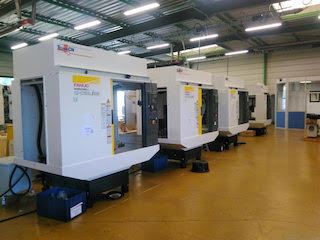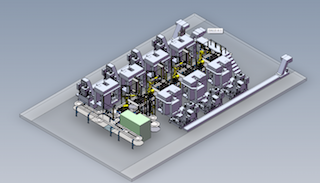 The robotized island A 3D model of the installation
The first Robodrill was successfully integrated in the production cycle of Peugeout Japy Technologies, the machining and assembly division of Farinia Group. The Fanuc Robodrill is a next-generation vertical machining centre offering incredible performance and unbeatable efficiency at a very high speed; with a tool change time of 0,7 seconds and a capability of handling tools weighing 4 kg. This production line (4 Fanuc robots and 7 Fanuc machines) was fully prepared, equipped and manufactured by Techni-CN - Repmo Group in partnership with Evolution Systems for the robotics part.
The management of Farinia Group is planning to deploy 3 more robotized islands like this one at PJT (Peugeot Japy Technologies) to ensure the realization of axial and radial holes on automotive parts, increase productivity and improve quality.
The integration of cobots is one of the many smart manufacturing deployments that Farinia Group has undertaken in the context of industrial automation, new technologies and industry 4.0.
Would You Like to Know More?
Sign up for our free newsletters here and get the best of what Farinia Group has to offer, delivered right to your inbox!