Floatgen Presentation at FWP
Friday, September 28, 2018
France's First Floating Wind Turbine Presented to FWP Forum Participants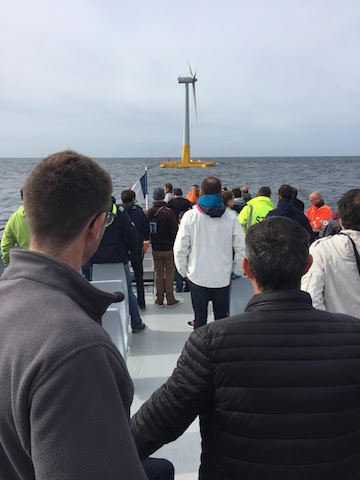 After 2 days of exchanges and workshops in Brest at The Floating Wind Power (FWP) Atlantic Forum, the participants were able to discover Floatgen: the first floating wind turbine in France. The course was set on the SEM-REV, the multi-technology offshore testing site operated by Centrale Nantes.
At this site, by nearly 30 meters deep, are installed the FMGC cast iron shells developed to ballast, stabilize and protect submarine power cables. Céline Favreau from FMGC was able to come on board to visit the wind turbine and also present FMGC, its products and the advantage of taking part in these tests.
This opportunity to participate in such an experience is an opportunity to achieve a unique feedback in real conditions on the performance of the cast iron shells by taking advantage of the measuring instruments and skills of Centrale Nantes.
Would You Like to Know More?
Sign up for our free newsletters here and get the best of what Farinia Group has to offer, delivered right to your inbox!