Forging Labor Shortage
Wednesday, December 5, 2018
What to Do to Attract Skilled Employees in Manufacturing?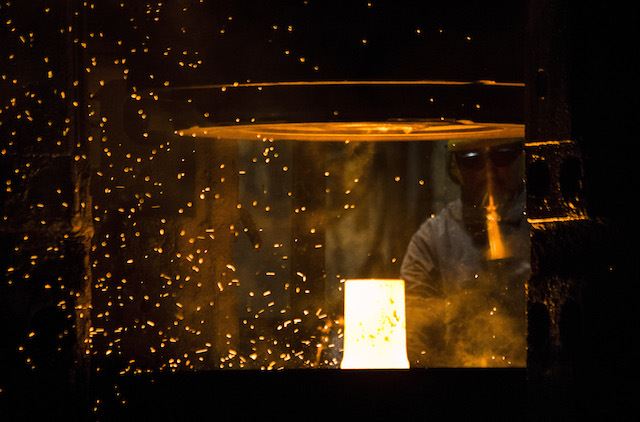 Setforge Forging Plant, Photo Credit Mikaël PUGNET
Worker shortage in manufacturing remains a huge problem in many countries. One of the main reasons is the fact that manufacturing worker skills are no longer taught at school or at least not as they should be. Some stereotypes as well about the "work at the factory" versus "the well-paid work behind the desk" are totally disrupting the manufacturing employees market. Slowly, but surely the lack of qualified workforce is negatively impacting production. And while some of the business owners are sitting back and waiting in vain for governments to solve that problem for everyone, there are others that take control over the situation and come up with consistent strategies to attract skilled and productive employees.
Who Gave Forging a Bad Name?
Well, many of the causes are mostly well known. As already mentioned, the educational system is not producing enough graduates grounded in manufacturing and especially, welding, forging or machining. The work at the forge has been unfortunately seen for many years as something that is not sufficiently clean, ambitious and modern. But guess what, the time have changed and forges as well. In the time of IoT, smart manufacturing, automation and lean techniques, a skilled forger turns into a project manager, controlling machines and computers. Possessing the expertise of forging can only lead you further and make you climb in the career given the fact of course that you are willing to do so. Factory work today demands a lot of knowledge and social skills. Furthermore, strict safety regulations are a must at every successful forging facility.
And finally let's be honest, there are people that simply prefer to obtain a craftsman job instead of going to the college. And it is really pity that very often this choice is stamped as "not prestigious". This attitude is totally discouraging future young professionals to learn how to make things.
What Profiles Is the Forging Industry Exactly Looking For?
A job at a forging factory requires today a whole set of various skills and in-depth machine knowledge. Some of the activities include work with metal such as welding and forging, setting-up machines for operators use, operating certain machines, tool-setting and repairing all possible equipment.
And even while for some of you this might sound surprising, the top required skills for this profession are not the technical ones, but problem solving, teamwork, learning and communication. Only employees who possess these skills would be able to move forward in the dynamic metal working field.
How to Attract Skilled People to Enter the Forge?
1. Let Your Company Participate at an Industrial Organization
In France there are the so called GEIQ groups of employers for integration and qualification who hire and qualify through vocational training people having difficulties with their professional integration and thus making them "available" for the company members of the organization. The GEIQ project is created on a regional level according to the needs for qualified workforce of local businesses. In France there are in total 17 GEIQs and 13 of them are in the metallurgy.
The most recent business case comes from Setforge Gauvin, one of the forging subsidiaries of Farinia Group. The management of Setforge Gauvin has been struggling for a while with the lack of employees. End of September 2018, Setforge Gauvin decided with a couple of leading metallurgy companies from the French region of Auvergne to establish the Employers' Group for Integration and Qualification – GEIQ Auvergne, supported by the UIMM Auvergne (a French employers' professional organization). The goal of the association is to recruit and train collectively people who have difficulties to find their professional way and convert them into qualified workforce for the metalworking industry.
The metallurgy companies in Auvergne have planned to recruit more than 4,600 people in the next 12 months. In order to provide an appropriate response to these needs, the UIMM Auvergne initiated the set up of the Employers' Group for Integration and Qualification (in French: the GEIQ).
This step possesses the huge potential to solve the recruitment problems of the forging facility.
To evaluate the value of this project for the companies in Auvergne, there has been a study conducted earlier this year, managed by 14 directors and HR managers of local leading metallurgical companies, ADEFIM Auvergne (Association for the development of metallurgical qualifications and trainings) and government represented by DIRECCTE ( Organisation for Enterprise, Competition, Consumer Affairs, Labor and Employment).
The study has confirmed the recruitment difficulties of local companies on certain profiles as machining/manufacturing operators, welders and maintenance technicians.
2. Establish a Valuable Well-Being Program
The French foundry FMGC, the European leader in the manufacture of cast iron counterweights has been working hard on improving employees' conditions by establishing a versatile well-being program, including sport, fresh food from local producers and info screens. Other examples may include participation at team contests, health check-ups and many others.
3. Tolerate, Appreciate and Involve Qualified Workforce
Nowadays, everybody has an access to social media. Making workers feel as an important part of your industrial family by involving them in open discussion on social media channels and showing that their knowledge and skills are highly appreciated is one of the best things to do as a manager. Campaigns about employees' appreciations, surveys and questionnaires should become a daily routine of the HR department.
The need for qualified workforce in forging can be only battled through targeted actions adapted to the regional industrial needs. There should be more efforts invested in the integration and professional qualification of young people to ensure the evolution of the industry's professions.
Would You Like to Know More?
Sign up for our free newsletters here and get the best of what Farinia Group has to offer, delivered right to your inbox!