Setforge Gauvin Rewarded
Setforge Is Partnering With the Departmental Service of Fire and Rescue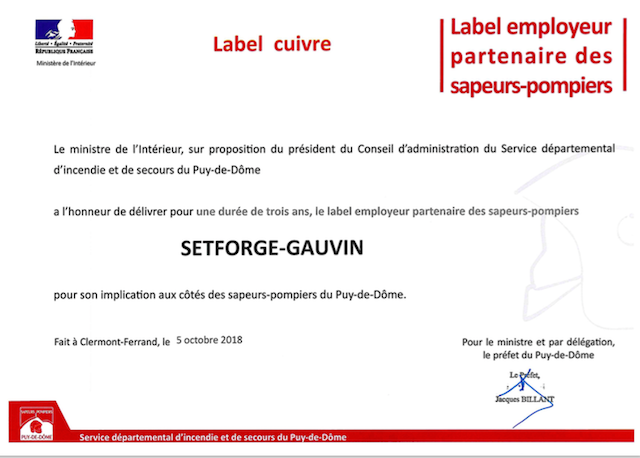 In Puy de Dôme as in the rest of France, the function of firefighters is largely based on volunteering. Therefore many companies from the region have taken the initiative to send employees who would like to volunteer to work with firefighters.
The departmental service of fire and rescue has just handed over its reward – to company engaged (included Setforge). In total, in the Puy de Dôme, there are 3,781 volunteer firefighters (80% of the total workforce) for 45 000 interventions per year.
For many years Setforge Gauvin is partnering with the Departmental Service of Fire and Rescue allowing the provision of volunteer firefighters members of the company's teams. We were deeply honored to receive this year as well our Copper Label and contribute to the fire safety in the region.
Would You Like to Know More?
Sign up for our free newsletters here and get the best of what Farinia Group has to offer, delivered right to your inbox!