The Tidal Turbine is Equipped with FMGC Cast Iron Counterweights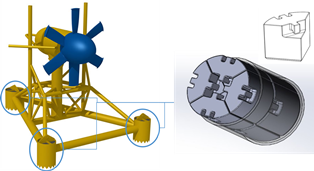 All components of the tidal turbine Sabella D10 are finished and have arrived at the Brest commercial port. In later spring the set should be installed in the waters of Fromveur near Ushant to generate electricity through the tides by resisting the force of the sea currents. The tidal turbine is expected to cover 20% of the energy needs of the island. All components are designed and manufactured in France.
The robust base comprises 200 tons of FMGC tidal turbine ballast, made of gray cast iron.
Sabella is already looking forward to Sabella D15, which should be launched in 2018 and will cover not 20, but 70 % of the energy needs of Ushant.
FMGC is the European leader in the manufacturing of gray cast iron counterweights for vehicles employed mainly in the material handling and construction industries. Relying on its 25 years of expertise in this field, the company never stops looking for new challenges and innovations. In the last 3 years FMGC has been actively working on new high-density ballast solutions to support the marine renewable energy sector. The pioneering tidal turbine foundation for Sabella D10, made of gray cast iron, is an important milestone in the company's development towards the MRE sector.
Why cast iron?
Most of the existing gravity-based tidal turbines use concrete. Although it is a new material in this industry, gray cast iron provides better mechanical properties. 4 to 5 times denser than concrete, cast iron can achieve the target weight in less space. Its resistance to corrosion and strength are also proven better than those of concrete.
Read more in Le journal de l'éolien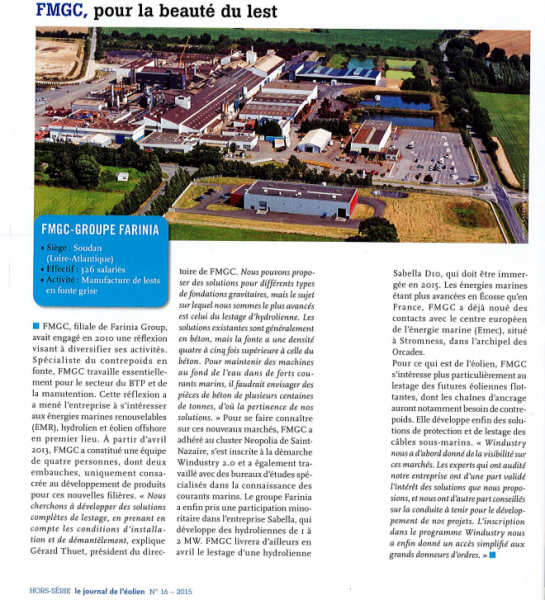 More on Sabella D10 Gray Cast Iron Counterweights
Sabella Tidal Turbine D10 Is Ready