Friday, December 23, 2016
On the 14th and 15th of December 2016, Market Analyst and Innovation Manager at FMGC Benoît Leroux attended the Energaia Forum and on the 5th edition of the Windustry France Meetings organized by the Renewable energies trade union in Montpellier (South of France).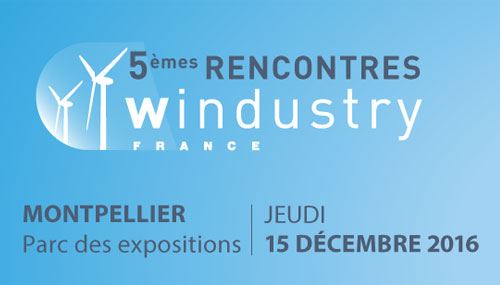 The Windustry France Meetings' aim is to promote the expertise and the innovation capabilities of French companies, and to allow them to interact with major purchasers from the onshore and offshore wind-turbine industry from all around the world.
For the first time ever this year, a space dedicated to presenting processes, products and innovating projects for the wind-turbine industry was created.
Mr Leroux had the opportunity to present FMGC's ballasting solutions for onshore wind-turbine foundations to project developers, wind-turbines manufacturers and wind farms owners looking for new solutions for complex construction sites. Our products target specific issues inherent to new construction sites, repowering or foundations repair.
Benoît LEROUX had the opportunity to interact which many key players of this sector. These conversations confirmed their interest in our solutions as well as our efforts to diversify towards the Renewable Marine Energy market.
Any question? Please contact us