Gravity Anchor
Offshore floating wind turbine technologies are likely to become the next most significant source of affordable renewable energy. Even though positioning wind farms in the sea is more environmentally friendly and the wind is consistent and stronger, the interaction with wind-and wave-induced forces raise a number of technical challenges. High-quality offshore mooring systems are of critical importance for the offshore floating facilities.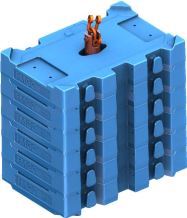 Since the mooring system relies on the strength of the anchors, their reliability has a great impact on the performance of the floating turbine.
Relying on its longstanding expertise in the manufacture of heavy sets of counterweights for the off-highway industry, FMGC supplies the MRE sector with gravity anchors assemblies, weighing up to several hundred tonnes. All our gravity anchors are made of cast iron, which increases their density and minimizes the mass required to stabilize the anchor.
FMGC designs and manufactures diverse economic and optimized solutions for a wide range of offshore floating wind turbine technologies.
➤ DISCOVER THE PRODUCTS OF FMGC
CONSULT THE FMGC FLYER ON FLOATING OFFSHORE WIND POWER
---
| | |
| --- | --- |
| | |
Do you need a similar component?
Over the years, Farinia Group has taken on new and tough challenges and built a solid expertise in the manufacturing of high-quality parts.
To ensure the success of your projects, we deliver state-of-art engineering & manufacturing, whether your application requires:
Forging
Casting
Machining / Finishing
Metal Additive Manufacturing