Protecting and Ballasting Shells
Submarine cables are of critical importance for the safe transfer of power generated from wind or tidal turbines. They can be easily damaged by fishing, anchors, earthquakes, fish bites or drilling. The reliable protection of the submarine cables is essential for a stable and continuous power flow.
FMGC cast iron shells are the final product of the collaborative and innovative R&D project IBOCS and are especially designed to fulfill the specific requirements of the MRE sector. The aim of the project was to develop a full range of articulated cast iron shells that protect, ballast and stabilise subsea conducts (cables, pipes, etc) and a semi-automatic installation equipment.
The main goal of the FMGC protecting and ballasting shells is to significantly reduce the cost of the electrical connection for MRE solutions and thus - the cost of the kWh.
➤ DISCOVER THE PRODUCTS OF FMGC
➤ WATCH THE INSTALLATION OF THE SABELLA D10 SUBMARINE CABLE, EQUIPPED WITH FMGC BALLASTING SHELLS
FMGC has developed a wide range of shells that can adapt to different types of cables: from telecom cable of 20mm to export cable of 300mm. We can easily adapt the required kilograms for each cable segment (from 30kg/m to 250kg/m), depending on the specific seabed conditions, since all FMGC shells have the same joint system. Therefore for the same diameter of cable, we can easily alternate the type of shells along the cable route.
Photo credit: Sabella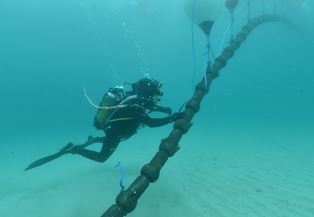 FMGC cast iron shells with integrated ballast provide most reliable and robust protection. The protecting and ballasting shells are especially designed to resist high impact, abrasion and corrosion. The unique mechanical properties of cast iron withstand the harshness of marine environments. Every shell comes with integrated ballast and bendrestrictor functions, which eliminates the risk for overbending or dislocation.
FMGC can calculate and analyze the required ballast weight for the cable based on metocean and soil data. Our partner INNOSEA can conduct, if necessary, some additional studies to ensure the weight needed to stabilize the cable and identify potential weight and cost savings.
➤ CONSULT THE FMGC FLYER ON PROTECTING AND BALLASTING SHELLS
---
Our Expertise:

Global Manufacturing

Technical Characteristics

Material:
cast iron GS-415 ISO 1083

Dimensions:
product length 428 mm

effective length 352 mm

outside diameter ball / tube 196 mm 138 mm

inner diameter 75 mm 70 mm

thickness mini / max 17 mm 31 mm

elastic resistance / strain 400 MPa 15% elongation

weight per segment (air) 30 kg 85 kg

weight per meter (air) min / max 255 kg 88 kg

minimum bending radius 1.3 m
---
Do you need a similar component?
Over the years, Farinia Group has taken on new and tough challenges and built a solid expertise in the manufacturing of high-quality parts.
To ensure the success of your projects, we deliver state-of-art engineering & manufacturing, whether your application requires:
Forging
Casting
Machining / Finishing
Metal Additive Manufacturing