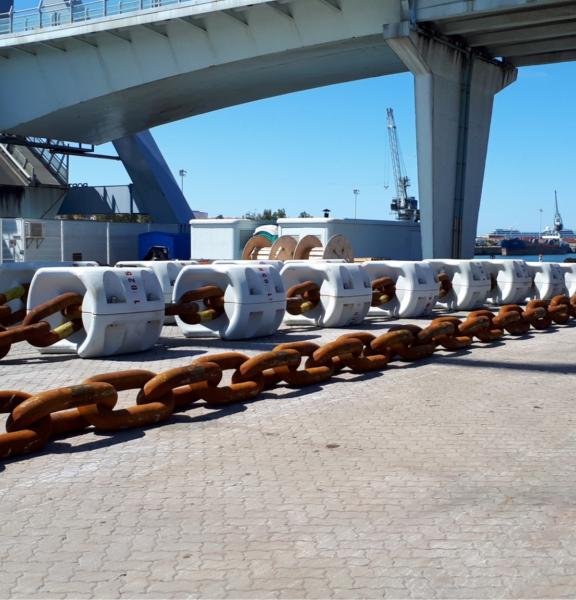 Through the oil and gas exploration and production, mooring systems have been widely deployed all over the world at various sites. Today, the marine renewable energy sector can widely benefit from this experience.
However, the fast-paced development of the offshore market requires further adjustments and innovations to meet its specific challenges, which can no longer be addressed with the existing oil and gas technologies. The need for a higher cost competitiveness and the deployment of numerous floaters and associated mooring systems in a restricted area are some of them.
FMGC clump weights are designed to address these challenges by contributing to the restoring forces needed to limit the excursion zones of the floaters, without resorting to expensive solutions or longer mooring line length. Moreover, they also offset a part of the vertical loads applied to the anchors in catenary or semi-taut designs.
Thanks to their vast experience in offshore projects, the FMGC dedicated teams supply well-engineered, clump weights for various applications and mooring systems, considering the specificities of each project and any kind of environmental conditions.
The history of the FMGC goes back to 1929 and if it continues today, it is because the company has never stopped developing to be attentive to its customers.
Especially developed to meet project design life;
Created for a wide range of mooring and anchoring applications;
Featuring tailored design to meet mooring design needs;
Contributing to station keeping system by providing restoring forces;
Allowing the reduction of the mooring line length by adding masses in specific design.
Because every project is different and in order to bring the most accurate and efficient solution to the customer, FMGC dedicated teams support the developers and project owners through the dimensioning, engineering, manufacturing and deployment phases of the clump weights.
FMGC supplies the MRE sector with both distributed and mutualised clump weights, considering the mooring design specificities, such as the requested linear masses, the chain link specifications, the targeted mooring dynamic and design.
While the mutualised configuration, mainly deployed on the upper part of the mooring lines, limit excessive line tensions, the distributed configurations, positioned on the touch down point, contribute to the control of the excursion zone by applying restoring forces.
Because the reliability of a mooring design is of critical importance, FMGC pays a special attention to the quality its solutions and their ability to withstand the loads and environmental solicitations during the project lifetime. Therefore, we have implemented rigorous validation steps at each phase of the clump weight's development and manufacturing process.
From the numerical modeling assessing the mechanical properties of the pieces and the interaction with other mooring components, until the final inspections ensuring the conformity of the pieces, each step is continuously monitored. The material's chemical composition, the weight and geometry of the pieces and all the other key parameters, are ensured through rigorous inspections, controls and testing.