Innovative Solutions for Floating Offshore Wind Turbines
FMGC offers diverse economic and optimized solutions for a wide range of offshore floating wind turbine technologies.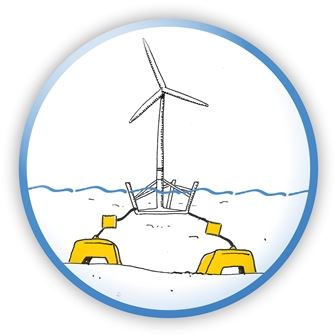 Available in "distributed " and  "mutualized" configurations, these weights are designed to offset the vertical forces against the anchor and restrict the movements of the floating structure. FMGC provides a customized design of all its clump weights, based on the target weight, the chain line diameter and the available installation means.
Relying on its longstanding expertise in the manufacture of heavy sets of counterweights for the off-highway industry, FMGC supplies the MRE sector with assemblies, weighing up to several hundred tonnes.
Over-ballasting Anchors
Directly integrated into the anchor, the cast iron ballast provide additional weight and penetration strength.
➤ READ MORE ON CLUMP WEIGHTS AND GRAVITY ANCHORS
SEE FMGC FLYER ON FLOATING OFFSHORE WIND POWER