Cast Iron for High-Quality MRE Solutions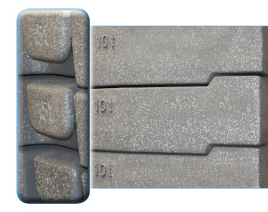 Cast iron offers undoubted advantages for a wide range of MRE solutions as tidal turbine ballast, protecting shells or clump weights. The right dimensioning, eliminating any oversize and the high-density of the material significantly minimize projects cost.
FMGC cast iron ballast solutions are sourced from best raw materials and are fully recyclable at the end of the project. Since casting enables the customised manufacturing of complex parts, FMGC cast iron products can easily adapt to any MRE solution.
To analyze the exact impact of gray cast iron on the marine environment FMGC assigned IN VIVO ENVIRONMENT (Marine Environment and Oceanographic Consultancy Services) to conduct a research.
Dowload the INNOSEA Study on Weight Reduction of Gravity-Based Structures
Additional Resources:
What is the Impact of Gray Cast Iron on the Marine Environment ? 
How to Handle Corrosion of Cast Iron in Marine Environment ?
CONSULT THE FMGC FLYER ON CAST IRON