How to Manufacture a Common Rail with High Quality?
Setforge is the forging subsidiary of Farinia, an industrial group with more than 20 years of experience in the sector of multi-material transformation. The core business of Setforge is the complete development of parts, from the design to their production, whether they are hot, warm or cold forged. Thanks to our excellent skills we have become a full-fledged supplier for one of the most dynamic industries - the automotive one. Our expertise includes a full range of components among those the common rail, the most critical part of the direct fuel injection system for gasoline and diesel engines.
The manufacturing process of a common rail comprises the following steps: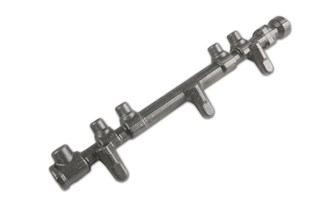 The role of the common rail is to accumulate highly pressurized fuel and distribute it to the injectors. The next-generation diesel and gasoline engines tend to become smaller and lighter for less fuel consumption and better performance, which increases the fuel pressure. This makes out of the common rail a component with very specific requirements. It should possess best mechanical properties in order to be strong and resistant to fatigue, loading, vibration and other environmental conditions.
Setforge and best automotive manufacturers have recognized the power of the forging manufacturing process and its benefits for the entire direct fuel injection system. We are specialized in the production of high-quality long or short forged common rails for diesel or petrol engines. Every single step of our manufacturing process is strictly monitored to deliver best components:
How Does Setforge Manufacture a Best-Quality Common Rail?
The early stage of common rail's development is essential for the later performance of that component. The right geometry and precise parameters prevent a lot of problems that occur later as defects in heading process or material fatigue. Our experienced team works in close collaboration with the client in order to find best shape and size. The geometry of the common rail should be perfectly defined in order to fulfill the complex requirements of the next-generation diesel and petrol engines.
The choice of the most suitable material is a crucial moment in every manufacturing process. Setforge common rails are made of elaborated steels for diesel common rails and stainless steel for common rail for a gasoline direct injection. All our materials guarantee reliable performance and resistance in every single moment. Working with best steel producers, we develop new steels with optimized mechanical properties conforming to all innovations in the automotive sector.
After the material has been selected and the design has been made, the common rail is manufactured with Setforge high-quality forging tools. Our expertise includes forging hammers, screw presses, mechanical presses and other sophisticated machinery. Experienced engineers conceptualize, depending on client's requirements, individual forging process combining different equipment. All dies and tools are tested and controlled according to most stringent standards and guarantee the excellence of the manufacturing performance.
Before trimming takes place, the hot forged common rail is required to cool first. The right cooling contributes to optimized strength and resistance of the component, providing best mechanical properties. Trimming is a precise operation which ensures the final parameters and should be done with special attention.
Setforge is in constant search of the best weight /performance at the best price relationship. After considering several factors, we chose the forging manufacturing process as the winning technology that delivers the right balance between quality and cost.
Every single production step of the manufacturing process undergoes strict control. Our team is committed to provide best design expertise, develop most resistant materials, use 100% controlled tools and apply best forging techniques. We work closely with the customer to provide best balance between quality and cost.
Did you Enjoy Reading this Article?
If you need to know more about a related topic or require our expertise to complete a project, we will be pleased to help you!
"Quality content" is far more than just a buzzword for Farinia Group. We share our expert insight to help you take informed decisions.
Do you want to receive our regular news updates & article releases?