Warm Forging
The warm forging manufacturing process occurs within the temperature range of 650 °C and 1000 °C, depending on the used material and the components type. This is usually above the work hardening temperature of the workpiece and below the temperature at which scale forms.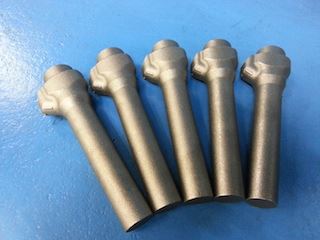 If the forging temperature is below the transformation point of 740-770 °C, the material should undergo a preliminary heat treatment. This temperature range is used for parts with medium complexity which don't require heat treatment after forging. For parts with greater complexity, the forging temperature is above the transformation point.
Although this temperature range is close to the one of hot forging, in terms of technology warm forging is rather similar to cold forging.
The warm forging process is placed somewhere between the cold and hot forging techniques, combining all their advantages as surface quality, precision, material usage and flexible shapes but generally requires high engineering skills (tools design, cooling, lubrification) and a dedicated forging press.
Warm forging is an important milestone of Setforge long-standing expertise in high-quality manufacturing. Performed as a single production technique or as an extension to cold or/and hot forging, our warm forging manufacturing process delivers mechanical components of premium quality.
---
Our Expertise:

Global Manufacturing

Technical Characteristics

Material:

carbon steels
low and high alloy steels

Equipment:

mechanical single and multi-stage presses
screw single and multi-stage presses

Shaping and Tolerances:

weight: 0.1 kg up to 5 kg
machining allowances: 0,5 to 1 mm
tolerance range: IT 10 to IT 13

Spectrum of Components:

CV joints
tulips
injector bodies
cylinder heads
shafts
---
Do you need a similar component?
Over the years, Farinia Group has taken on new and tough challenges and built a solid expertise in the manufacturing of high-quality parts.
To ensure the success of your projects, we deliver state-of-art engineering & manufacturing, whether your application requires:
Forging
Casting
Machining / Finishing
Metal Additive Manufacturing