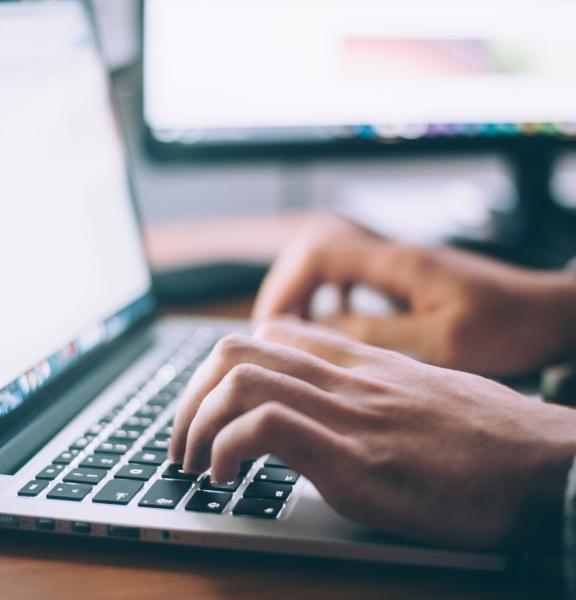 Hot Forging: Main Considerations, Materials and Applications
Forging is classified in hot, warm and cold, according to the temperature at which is performed. Although hot forging remains the oldest known manufacturing technique, the preference for the one or the other process, doesn't depend on their quality but on the required characteristics of the final product and the production cost optimization, in accordance with the size's batch of production. Forging refines the grain structure of the applied materials, mainly metals and alloys and thus improves the mechanical properties of the component making it stronger. Sophisticated hammers and presses are used to deform the material into a desired shape.
Read more on Cold Forging vs. Hot Forging – Considerations, Benefits and Drawbacks
How Does Hot Forging Happen?
The hot forging manufacturing process is performed at the highest temperature which does not destroy the metallurgical features of the considered alloy (up to 1250°C for steel, 300 to 460°C  for Al-Alloys, 750 to 1040°C for titanium alloys and 700 to 800 °C for Cu-Alloys).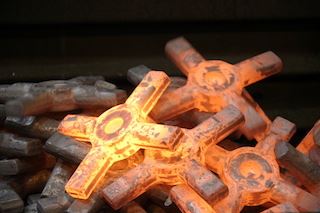 Recrystallization occurs simultaneously with deformation, thus avoiding strain hardening. For this reason, and for best results, the forging temperature must be maintained throughout the entire process above a specific minimal, depending on the alloy. This condition avoids as well the risk of lack of forgeability, which leads to cracks as the ductility may be seriously reduced at lower temperature. The forging sequence is subsequently limited in time to respect these temperature limits.
If forging is not completed when the lower limit is reached, reheating is required when possible, or the part must be considered as forged, and finished by other means. The required interval of temperature for hot forging process is so important that all toolings are preheated to limit the loss of temperature of the component during the forging step. This had led to design a very accurate and specific process for closed die forging called "isothermal forging".
During isothermal forging, the tools (actually dies) are kept heated at the required forging temperature. This concept however is applied very differently, depending on the type of the material, thus on the forging temperature itself. The material grade used for the dies must effectively keep the high mechanical properties required to deform the component material at the forging temperature. 
Some examples of isothermal forging applied to different materials.
- It is quite mandatory for aluminum forging, as aluminum cools very quickly and forging temperature is rather low: all die grades sustain the required mechanical properties.
- It is possible for copper and titanium alloys, if a sophisticated (and expensive) grade is chosen for the dies.
- It is very difficult for steel alloys, where very few material (such as pure molybdenum) dies stand at 1250 °C the forging stress.
Therefore, isothermal forging is quite unusual for titanium alloys, and very confidential for steel and nickel based alloys (dedicated to the highest difficult turbine disks for jet engines for instance.)
Setforge provides high-quality isothermal forging process for aluminum alloys.
To prevent gas contamination which occurs during the hot forging process (O2, H2 or even N2 contamination) it is possible to protect the component by glass coating or controlled atmosphere (inert gas) within the heating furnace, induction heater and even press laboratory.
Hot forging begins with a forged metal ingot or a cast metal piece which gets "squeezed" in dedicated dies where its grain structure is broken down and homogenized into finer grains for increased yield strength and ductility. Because the metal is hot, it gets easily deformed and allows manufacturers to create more elaborate shapes than with cold forging. The fact that the metal is plastically deformed above its recrystallization temperature, allows it to retain its deformed shape as it cools. The shaping is followed by cooling, which is of critical importance as cooling hot forged parts too quickly can result in warping. 
Hot Forging Benefits 
The hot forging process produces the most various shapes compared to other forging processes, and as the dies are not very expensive to produce, it is very well adapted to small batches and shapely components. Actually, other processes (warm and cold forging) are designed for high volume production such as automotive, and fasteners components, with simplier geometry, for which extremely complex dies can be designed, and amortized on a large number of parts produced with.
-       Good ductility
-       Possibility to manufacture customized parts
-       Excellent surface quality
-       High formability ratios
-       Decreased yield strength and thus less energy required
-       Increased diffusion and thus reduced chemical inhomogeneity
However, Hot Forging Features 2 Unfavorable Side Effects 
The functional areas of the component should be machined before assembly, as surface conditions, dimensional tolerances and residual surface contamination are not suitable to usual mechanical assembly design.
The material yield is higher than other (warm and cold forging) because of the scale produced during the heating, and because of the subsequent machining.
What are The Most Important Things to Consider When Performing Hot Forging?
Cooling
As already mentioned above, cooling should be performed with an extreme care due to the risk of warpage.
Tolerances
Another important thing to consider when choosing hot forging is the less precise dimensional tolerance compared to cold forging.
Flash
Hot forgings can be divided into forgings with and without flash. These with flash possess complex 3D geometries compared to the flashless ones, generally limited to axisymmetric components or components with cyclic-symmetric geometries.
Dies
The dies used in hot forging are custom-made to match the customer's part designs. The process is performed with drop, power drop or counterblow hammers, hydraulic or screw presses, and other similar machinery to compress the heated metal into the desired part shape.
Since the dies used in hot forging undergo sever thermal cycle and mechanical loading, cracking, plastic deformation, thermal fatigue cracking and wear should be taken into account. To prolong dies' life a good ductility and toughness and enhanced levels of both hot hardness and hot tensile strength are required. 
What Are the Best Materials for Hot Forging?
Hot forging can be used to fabricate a broad spectrum of parts, and can be performed with most ferrous and non-ferrous metal alloys as:
·       Structural steels
·       Aluminum and magnesium wrought alloys
·       Free-cutting steels
·       Stainless steels
·       Titanium alloys
·       Molybdenum alloys
·       Nickel/cobalt alloys
Most of the steel alloys are almost always hot forged, because as work hardening on hard materials advances, their deformation becomes more and more difficult.  Furthermore, it is much more economically interesting to hot forge metals such as steel and then perform a heat treatment.
Hot forging remains the best available manufacturing process for complex shapes, heavy-weight components and high-duty alloys.
Which Industries Can Mostly Benefit from Hot Forging? 
The most common hot forged product applications are mainly found in automotive, agricultural, aerospace and construction configurations, which require strength and durability. 
The forging subsidiary of Farinia Group, Setforge masters the whole spectrum of forging techniques and provides a complete development of components, whether they are hot, warm, or cold forged. The Farinia Reseach & Development Team – Setforge Engineering possess solid metallurgical knowledge to adjust all required parameters in order to guarantee our customers the flawless design, simulation and execution of the entire process.