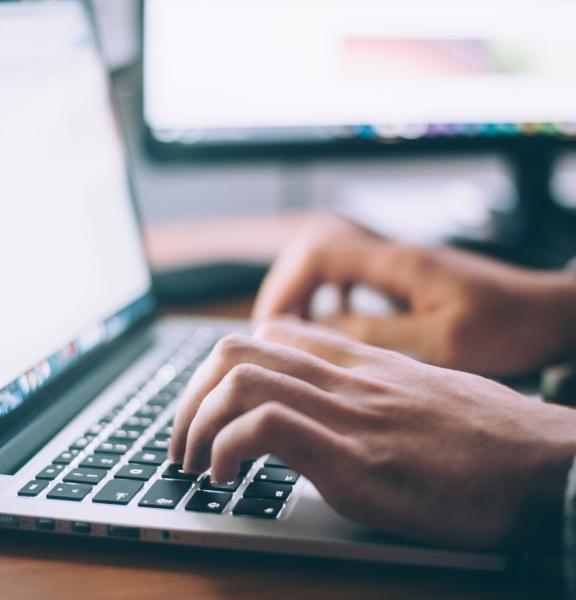 The Influence of a CMMS on Today's Auto Parts Manufacturing
Big automakers have realized very fast that an industry 4.0 induced CMMS can streamline operations and significantly improve internal communications. Combining smart CMMS and IoT is the most powerful competitive advantage nowadays in the automotive manufacturing.
The automotive industrial sector has always been a fast adopter of digital trends. In 2015, Setforge Hot Formers, specialized in the manufacture of hot forged automotive components has deployed the smart CMMS Mobility Work. Vincent Thinus, the President & Managing Director of Setforge Hot Formers, explains that "this maintenance tool has helped the teams to better structure their interventions and to carry out field monitoring while exchanging precise instructions between them." The next-gen CMMS Mobility Work has helped maintenance professionals to improve the availability of site facilities including those used to manufacture one of the company's main products - the automotive ring gear.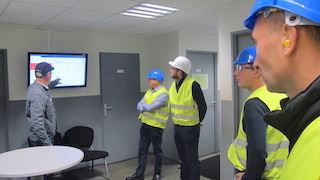 SHF team in front of the Mobility Work board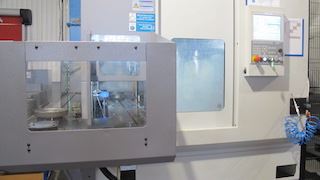 SHF Equipment for Manufacture of Automotive Ring Gears
Not every CMMS Is a Smart CMMS?
Not every CMMS on the market supports a smart maintenance approach. What are the most important features of a modern, next-gen CMMS? First of all a CMMS should be user-friendly. Its adoption should ease and not complicate the daily routines of the team. Every technician should be content and able to access it anytime and anywhere from any smart device. A mobile version is a must. Handover and follow-ups of interventions should happen fast and intuitively.
The second important groups of features include the basic requirements for every quality solution, in particular organizing technician's activities, preventive maintenance scheduling, reminders, all types of documents upload, spare parts management, geolocation tool and many others.
The last features encompass the ability of a CMMS to connect to ERPs and sensors to reliably analyze all possible equipment's data as asset failures, downtime and delays in order to issue predictive algorithms.
But this is by far not everything. There are even solutions that go a step further and provide an entire maintenance management platform. Mobility Work for instance is open for service providers and machine and consumable manufacturers. They can create an account and publish their products' catalogue. Also, all members can communicate with each other, exchange experience or look for the right business partner. Mobility Work is the 1st maintenance social network.
A next-gen CMMS should ensure that all assets are properly maintained and thus boost the uptime while completely transforming operational data into useful insights. Inefficiencies in the supply chain can be overcome with a work order status tracking. In general, with the implementation of computerized maintenance management system, manufacturers have become significantly more efficient and productivity has drastically increased.
A CMMS serving automobile industries should support the sector to overcome its common maintenance challenges as compliances with automobile manufacturers' safety standards and quality requirements by ensuring traceability and analysis of failures and recording all maintenance operations.
Given the fact that downtime can seriously affect the automotive industry, preventing breakdowns before they happen and solving problems before they start is the most critical contribution of a modern CMMS to an automotive plant's maintenance strategy.
How to Upgrade Your Hot Forging Manufacturing Process Through IoT and Big Data?
Predictive maintenance is at the heart of IoT. Before implementing such a strategy at the plant, it is worth defining the issue that you would like to solve. This will make easier for you to identify the data you would like to collect and the condition monitoring techniques to use.
The biggest benefit of connecting IoT and CMMS is that condition-monitoring data is actually analyzed in the context of all other possible information from databases, spreadsheets, interventions history, failure records etc. This is exactly the moment when this data gets some sense and meaningful correlations begin to appear. All this input is used to issue predictive algorithms and establish a predictive maintenance model.
The biggest achievement of a next-gen CMMS is its ability to connect to all possible devices, "communicate" with them and manage data in real time. IoT devices don't include only sensors mounted on manufacturing equipment. IoT smart sensors can be installed anywhere in a factory to measure humidity or other environmental factors. All this data can be fed to the CMMS and used to issue powerful data analysis reports to guide in critical decision-makings.
A CMMS mobile application can be used as well to gather sensor data at the source. In a case of emergency, alerts can be immediately sent to maintenance workers' mobile devices.
Technological advances have driven the automotive sector for decades. But now more than ever automotive manufacturers are ready and need synergies with the software and telecommunications sectors. Latest automation trends as advanced sensors, predictive analytics, next-gen CMMS, industry 4.0 and all possible IoT systems impact car manufacturing in two major ways.
Firstly the car manufacturing process has entirely changed. From design through equipment maintenance until the final product, the entire chain is automated and digitalized. Secondly the cars of the future are smart and connected and hopefully will soon make auto accidents a thing of the past.